Spodní krycí pláty / Bottom cover plates
Download > Project Sulaco 1:430
01.04.2011
Dalších 14 dní je za náma, a další skupina před náma. Dnes je to Skupina 07 - Spodní krycí platy. Dolepením této skupiny je celý spodek a boky přední části lodi hotové. S takto hotovým celkem je předek plně připraven na stežejní skupinu 03 - Antény.
Another 14 days passed, another group emerged. Today it is Group 07 - The bottom cover plates. With this group, the whole bottom and side section of the front unit of the Sulaco is finished. With this group completed, the front unit is fully prepared for the antenna array - Group 03.

A již notoricky známé rozdělení do PDF souborů:
Well notoriously known separation into specific (ship) PDF files.

Skupina 07 je zatím nejjednodušší vydaná. A proto získává histroricky nejnižží hodnocení obtížnosti , a to 1/5. Celá skupina má 14 dílů na 2 listech.
Group 07 is the easiest group ever released. That´s why there is such a small level of laboriousness: 1/5 stars. The whole group has 14 parts on 2 sheets.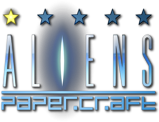 Slepený celek vypadá takto a reprezentuje asi 30% lodi.
The final unit looks like this picture and represents 30% of the whole ship approx.