Spojovací díly / Connecting section
Download > Project Sulaco 1:430
04.03.2011
Po dalších 14ti dnech se opět setkáváme u další skupiny. Tentokrát to je zakončení přední sekce lodi. Skupina 08 - Spojovací díly. Tato skupina umožňuje Sulaco rozdělit v přední části na menší celky pro snazší manipulaci.
After another 14 days, the new part group emerged. It´s an ending group for the front section of the Sulaco this time. It´s called Part Group 08 - The connecting section. This group allows you to split off the Sulaco model into easier smaller parts (units) for better manipulation.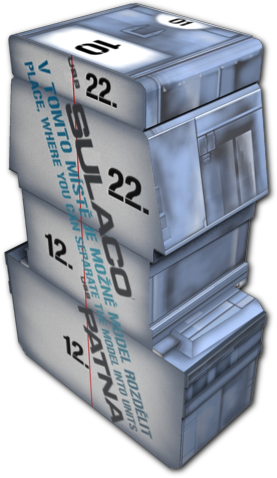 Tato skupina také umožní otočit již slepené celky do vertikální polohy , pro snazší lepení dalších částí, speciálně pak Spodních struktur (Skupina 09), Spodních plátů (Skupina 07) a Antén (Skupina 03).
This group allows you to rotate previously glued units (groups 01, 02, 04, 05, 06) into a vertical position for better completion with incoming part groups. Group 09 - the bottom structures, group 07 - the bottom plates and Group 03 the antenna array specially.

Zároveň je čas promyslet, jakým způsobem budete model spojovat a rozkládat pro převážení třeba na výstavu. Právě pro tento účel je skupina 08 určena.
This is the right time to think of the way, how to connect and separate each group unit for better and comfortable traveling (for competitions). Group 08 is designed for this purpose.

Při lepení Skupiny 08 k již slepeným dílům může vzniknout problém s tloušťkou dílu 22 (Skupiny 08). Doporučiji proto, pokud nebude sedět tak ho podle tvaru, co vymezují díly 32 a 33 (Skupina 01) vyříznout - viz obrázek.
There can be a problem with completing of the Group 08 to the present parts occur. The part marked 22 (Group 08) may not fit into space limited with Group 01. If it does not fit, just trim away enough of part 22 (Group 08) so it will fit over parts 32 and 33(Group 01), as shown in the picture below.

A zpět ke slepovačce
And back to the paper model.


A již známé rozdělení do PDF souborů:
Well known separation into specific (ship) PDF files.


Skupina 08 je jednodušší. Několik krabiček a dva malé objekty si zaslouží obtížnost 2/5. Celá skupina má 22 dílů na 3 listech.
Group 08 is easier. There are a few boxes and two small objects which deserve 2/5 stars. Whole group has 22 parts on 3 sheets.


Slepený celek vypadá takto a reprezentuje asi 22% lodi.
Final unit look like this picture and represents 22% of the whole ship approx.