Spodní skladiště / Bottom depot
Download > Project Sulaco 1:430
18.03.2011
Po dalších 14ti dnech se opět shledáváme. Než se dostaneme nové skupině 09 musíme vyřešit mezeru, která vznikla po přiložení skupiny 08 ke zbytku slepené lodi. Skupiny 04 a 05 spolu v zadní části tvoří zub. Na ten se lepí skupina 08. Za předpokladu zachování dělícího čela v absolutní rovině vzniká mezi spodní částí této skupiny a skupinou 05 mezera (<X).Tato mezera je způsobena 3mi faktory. Dva jsou na mé straně a jeden je na straně lepiče.
After fourteen days we are meeting together again. But first we must solve the rift that emerged after gluing the group 08 to the rest of the paper-model. Groups 05 & 04 together have a tooth in their back section. This tooth fits in the group 08. If you completed the Group 08 first (all boxes have clear back surface together) and then put on the rest of the paper-model, you´ve noticed, that there is a gap emerging (<X). This gap is caused by 3 factors. (2 are on my side, one on the side of the builder)



Normální podmínky_________________________ Podmínky většiny lepičů
Normal conditions ____________________Most of the builder's conditions


1) Faktor měřítka: První nepřesností je už převod z vektorového prostředí, kde je čára černá na pixelové prostředí, kde podle aplikovaného rastru se může stát , že ona čára bude šedivá a šířky dvou pixelů = nepřesnost při tisku v řádu 0.1mm.
1) Scale factor: The first inaccuracy emerged in the model, is the way of translating the parts from vector to pixel environment, where the black vector line is transformed into two rows of grey pixels (in a worst scenario). This represents the print inaccuracy 0.1mm.

2) Faktor tlouštky papíru: Tento problém byl, jak jsem se domníval vyřešen, když jsem obě skupiny, které tvoří zub (tedy 05 a 04) rozdělil na stejný počet kostek, tedy stejný počet mezer.
Bohužel, v tomto faktoru se musí ještě počítat s tím, jak je kostka uzavřena, protože po narýhování vzniká další nepřesnost v podobě ohnuté chlopně a přes ní přelepené stěny = jedna tlouštka papíru navíc. Toto bylo u skupiny částečně eliminováno otáčením kostek tak že jejich uzavření bylo napřeskáčku. I tak je nejvyšší vypočtená nepřesnost skupin vůči sobě 1.38mm (pro papír 250g/m2 tedy tlouštky 0.23mm)
2) Paper thickness factor: I thought that this problem was solved; when both groups (05 & 04) were separated into the same number of boxes (because they are created with the same procedure).
Unfortunately, I did not take into consideration the paper thickness when positioning the flaps and the way they bend, resulting in the other factor to this problem.

3) Faktor stavitele: Výslednou nepřesnost dále zvyšuje sám stavitel svou "nepřesností při rýhování a lepení (hovoříme o nepřesnostech v řádu desetin milimetru).Proto výsledná mezera (<X) dosahuje v průměru zhruba 2~3mm.
3) Builder factor: Final inaccuracy is a result of calculated one plus the builder's inaccuracy. Builder's inaccuracy is defined as lining & gluing inaccuracy. (We are talking about tenth of millimeters category). That is why the final gap (<X) is 2~3mm wide.

U stavitelů jež chlopně ořezávají a lepí tzv. na tupo se tento problém nevyskytuje, protože nevzniká kumulace tlouštěk papíru atd…
The builders, who are cutting the flaps from the parts and gluing the model by the edge to edge method, there is no gap problem (cumulating of the paper thicknesses).


Stalo se. Jak z toho ven? Všichni lepíme tento model pro radost a je nesmysl ho začínat znovu, ať už z finančních, či časových důvodu. A pro mě je nesmysl upravovat FREE-model ze stejných důvodů.
It happened, so what are we going to do? You are all building this model for your own pleasure and building it from the beginning is a pure nonsense (because of time or money). It is nonsense to rebuild or modify the FREE model for me, (for the same reasons, time & money).
A proto jsem se rozhodl k následující skupině 09 (Spodní skladiště) přihodit šablonu plochy pro vyřezání z kartonu, či lepené ze čtvrtek pro vyplnění mezery a "opravný" pásek, který by místo měl zakrýt zvenku. Celé je to obsaženo v tomto videu:
That´s why, I´ve decided to add a template (for cutting it from carton / cardboard) and a textured "correction" stripes to today´s Group 09 (Bottom depot). How to fix the gap is shown in this video:


A nyní už konečně samotná Skupina 09 (Spodní skladiště)
Now Group 09 (Bottom depot) itself.


A zpět ke slepovačce
And back to the paper model.

A již známé rozdělení do PDF souborů:
Well known separation into specific (ship) PDF files.


Skupina 09 je zatím nejjednodušší. Několik krabiček a pár menších objektů si zaslouží nejsnazší obtížnost 1/5. Celá skupina má pak 14 dílů na 2 listech.
Group 08 is easiest for now. There are few boxes and few smaller objects which is deserve 1/5 stars. Whole group has 14 parts on 2 sheets.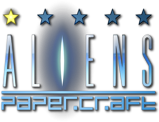 Slepený celek vypadá takto a reprezentuje asi 26% lodi.
Final unit look like this picture and represents 26% of the whole ship approx