Ústí motorů / Engine exhaust
Download > Project Sulaco 1:430
03.10.2011
Po dalších 14 dnech tu máme další aktualizaci. Je to trochu neobvyklá skupina ,protože leží až na konci 3 tího celku naší slepovačky. Jedná se o Ústí motorů - skupina č. 27. A proč právě ta? vyvětlení je jednoduché , je to skupina , co byla komplexně dodělána. To se o skupinách z prostředku lodi říct nedá. Tímto okamžikem se prodlužuje i interval aktualizace další skupiny dílů na jeden měsíc. Už není kde brát. Prototyp stojí a novou skupinu jsem ani pořádně neslepil natož otexturoval. O číslování a plánu ani nemluvě. Čas mě bohužel kradou i jiné aktivity, které byly už jednou popsány. Objevuje se další pravda, ato ta, že dva roky dělat na jedný slepovačce člověka pořádně unaví. Výsledkem je , že to nebalím, jen si dám na čas.
After Fourteen days , another update is here. It is unusual group this time, because it is group from the end of third unit of our ship. It is Engine exhaust - part group 27.Why this group you ask? Explanation is simple: it is the last of the complex finished groups. This, I cannot say about the groups from the middle of the papercraft. From this moment I´m changing the update period from two weeks to one month. There is no group for release yet. My prototype is on hold. I have not new grou for myself. There is no new complex group , no fully textured group, no new part numbers , no building plans. More time is missing. There are other activities I´m doing (explained last update). Oh yes, there is one factor that slowing me down:2 years of work on one complex papermodel is boring. The result of all this is: I´m not quitting, just taking my time.

Skupina je těžšího rázu, zejména je dobré si dát pozor na podlepení (X) vnitřního prstence (2x díly 1), aby dobře pasovaly do vnějšího obalu (díly 24 a 25) viz obrázek.
The group is from the hardest. It is good to know ,that you must calculate to paste the back of inner ring (tubus- parts No.1) of engine with some material (X) for perfect fit into the outer cover( parts 24 &25) ....see attached pic.

Známé rozdělení do PDF souborů:
Well known separation into specific (ship) PDF files.

Dalším úskalím jsou mřížky motorů a další malé díly. Toto vše dohromady určuje známku 4/5. Samotná skupina má 26 dílů a je rozložena na 5 listech.
Next hard thing is exhaust grid and othe small parts. All this together gives 4 stars of 5. The group has 26 parts on 5 sheets.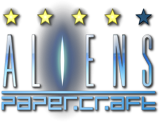 Tato skupina dohromady s již vydanými díly představuje zhruba 74% slepovačky.
With this group, the final amount of parts represents 74% approx.