Spodní railgun / Bottom railgun
Download > Project Sulaco 1:430
27.05.2011
Uběhlo dalších 14 dní a máme tady další aktualizaci dílů. Dnešní skupina je taktéž na jeden list , jako ta předešlá. A je to railgun, jako ta předešlá, a je to ta nejtěžší skupina slepovačky jako…EHMMMMM…pardon…druhá nejtěžší skupina v modelu.Je více hranatá než předešlá, proto má pouze 4 hvězdičky z pěti (vysvětleno níže) ve stupni obtížnosti. Dovolte , abych vám představil spodní railgun – skupinu 11.
Another 14 days passed and we have here another part group - update. Today´s part group covered one sheet, like the last one….and , It´s a rail gun, like the last one ….and it´s the hardest part group ….EHMMM…sorry…second hardest part group in the model. It has more cubic shapes than the previous one, That´s why it has only 4 stars of five (explanation lower) in level of laboriousness. Let me introduce you the Bottom Rail gun – Part group 11.

Pokud budete chtít otáčející se věž, tak postupujte podle návodu, nebo využijte následující obrázek z"galerie lepení modelu."
If you want to have rotary rail gun, simple follow the instructions or just use this picture taken from the "building gallery"….it´s more useful.

A konečně…. již známé rozdělení do PDF souborů:
Finally….well known separation into specific (ship) PDF files.

Jak již bylo řečeno, skupina 11 je druhá nejtěžší z celého modelu sulaca. S předešlým railgunem má asi 30% stejných dílů a zbytek je povětšinou hranatého tvaru. Tak vysoké hodnocení si získává malými díly. Celá skupina je z 27 dílů , celá na jednom listu.
As I wrote above, The Part group 11 – Bottom rail gun is second hardest group in the model. It has 30% of the parts from previous rail gun approx. The rest is more cubic shape like and small. That´s why, there is 4 stars in the result. The whole Part group 11 has 27 parts on one sheet.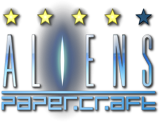 Tato skupina dohromady s již vydanými díly představuje zhruba 44% slepovačky.
With this group, the final amount of parts represents 44% approx.